Digital Pump Controller For Multi-Tank
Padmansha's digital pump manager is designed with advanced technology of microprocessor-based system. It is the safest and complete failure proof solution for long life and trouble free operations of the pumps controlling multiple overhead tanks. Our design criterion has been built-in absolute reliability for entire life of the equipment at affordable prices assuring continuous water supply without wastage of water and electricity.
DO YOU KNOW WHY PUMP MOTOR BURNS ?
Over current :
Over load, voltage fluctuations, mechanical and electrical malfunctioning, phase failure (Single phasing)
Under current :
Dry run, reverse rotation, mechanical failure, phase failure
(Single phasing)
PROBLEMS WITH GENERAL MULTI-TANK CONTROLLERS :
| | |
| --- | --- |
| | Too much wiring complications. |
| | On one tank full condition, pressure on motor increases too much and motor stops by overload. |
| | This keeps other tanks half filled. |
| | If motor remains on further, all tanks overflows till last tank gets filled. |
| | Fault finding becomes difficult. |
| | Because of continuous pressure ball valves have to be replaced time and again. |
WHAT CAN WE DO ?
Remember : Motor does not fail because of voltage but it burns because of current.
To Safe guard pump motor : We can monitor and control the current variation for its higher and lower allowable value.
Padmansha's digital Pump manager positively monitors and controls current variations and safe guard's pump set at any time of critical operation.
USE OF PADMANSHA DIGITAL PUMP MANAGER
| | |
| --- | --- |
| | Pump is switched On & Off according to the pressure switch condition. |
| | Pressure switch is operated on ball valve positions in overhead tanks. |
| | Saves electricity. |
| | Reduced wiring complications. |
| | The system is capable of running two pumps alternately. |
| | If one of the pumps fails then, only the other pump is used. |
| | The system is capable of giving visual indication of faults. |
Installation and Operation of Digital Pump Controller for Multi Tank :
Padmansha's digital pump manager is very easy to install.
Connections of panel, pumps and tanks are as shown in diagram below.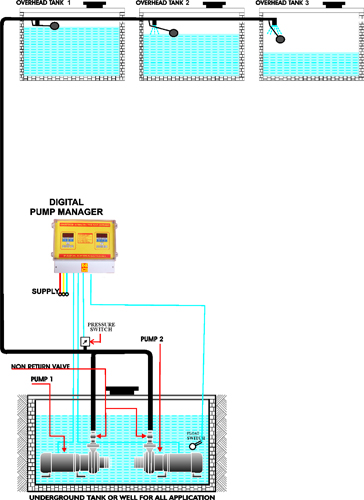 Operation :
| | |
| --- | --- |
| | To supply water continuously through multiple overhead tanks having only one sump tank |
| | When all tanks are full pressure in pipe increases. It operates the pressure switch and gives signal to controller. |
| | Controller starts or stops pump as per requirement |
| | Timer can be set using Time On and Time OFF switches. |
| | Lower and upper limit of current can be set using under current and over current switches. |
MULTI TANK CONTROLLER ILLUSTRATION
Features of Digital Pump Controller for Multi Tank
| | |
| --- | --- |
| | Reduced wiring complications |
| | Operates on pressure switch. |
| | No need of separate starter. |
| | Cyclic on-off timer. |
| | Easy to install (Only input supply wires and motor power supply wires to be connected). |
| | Minimum number of parts and hence less chances of failure. |
| | All the parts are plug-in type and hence very easy to maintain |
| | Inbuilt alternating action for two pumps. |
| | Digital display of motor current, set parameters and faults |
| | All the system parameters are code-locked |
| | Following protections are inbuilt to the system, |
| | |
| | |
| | |
| | |
| | Single phasing preventer in case of three phase systems |
| | Also available for Single pump systems controlling multiple overhead tanks |
| | |
Benefits of Digital Pump Controller for Multi Tank
| | |
| --- | --- |
| | Saves electricity and water. |
| | No need of manual operations saves operating cost |
| | Increases motor life. |
| | Increase in safety. |
Applications of Digital Pump Controller for Multi Tank
| | |
| --- | --- |
| | Societies. |
| | Hospitals |
| | Hotels |
| | Industries |
| | Schools |
| | Government Buildings |
| | High Rise Buildings |