Digital Pump Controller For Two Pump Two Tank Water System
Padmansha's digital pump manager is designed with advanced technology of microprocessor-based system. It is the safest and complete failure proof solution for long life and trouble free operations of the pumps ensuring continuous and automated water supply. Our design criterion has been built-in absolute reliability for entire life of the equipment at affordable prices.
DO YOU KNOW WHY PUMP MOTOR BURNS ?
| | |
| --- | --- |
| Over current | Over load, voltage fluctuations, mechanical and electrical malfunctioning, phase failure (Single phasing) |
| Under current | Dry run, reverse rotation, mechanical failure, phase failure (Single phasing) |
WHAT CAN WE DO ?
Remember : Motor does not fail because of voltage but it burns because of current.
To Safe guard pump motor : We can monitor and control the current variation for its higher and lower allowable value.
Padmansha's digital Pump manager positively monitors and controls current variations and safe guard's pump set at any time of critical operation.
Digital pump manager also controls the water level in overhead tank, thus avoiding overflow. This minimizes wastage of water and electricity.
USE OF PADMANSHA DIGITAL MOTOR MANAGER
The ultimate solution of all practical problems is Padmansha's motor manager.
Pump is switched On & Off according to the water level in upper and lower tank.
One of the biggest advantage is we can save electricity .
The system gives visual indication of pump faults.
Incorporates complex logic to control water pumps.


OPERATION AND INSTALLATION
Alternate change over between pumps in cyclic operation, to ensure equal wear and tear of all pumps in the set.
Start up delay, Stop delay and after run delays given to pump sets to prevent simultaneous and repetative start-up & stop.

Faulty pump is indicated by the flashing display of the fault and the pump is removed from the cascade and alternate operation after consecutive 10 faults.
Pump is switched On & Off according to the water level in the over-head and lower tank.
INSTALLATION
Padmansha's digital pump manager is very easy to install and operate.
Following layout will show details of installation.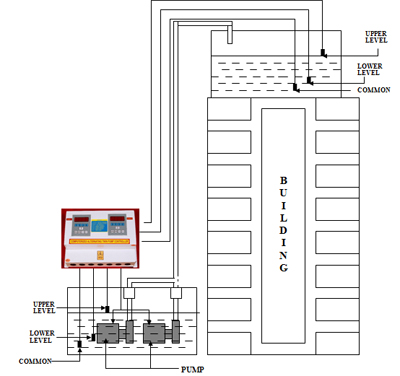 TWO TANK WATER SYSTEM ILLUSTRATION
FEATURES
Operates on two levels of the lower (Sump) and two levels of the upper (Over head) tank.
Simple metal probes, easily available and easy to install.
Alternating Current sensing and hence no contamination on the sensors, giving them longer life.
No separate starter required.
Minimum number of parts and hence less chances of failure.
All the parts are plug-in type and hence very easy to maintain.
Digital display of motor current, set parameters and faults.
All the system parameters are code-locked.
Auto / manual mode of operation.
Protections are not bypassed even in manual mode.
Following protections are inbuilt to the system
Over Current
Under Current
Dry run
Low voltage (Indirect Control)
High voltage (Indirect Control)
Single phasing preventer in case of three phase systems.
Also available for any One tank control.
BENEFITS
Saves electricity and water.
No need of manual operations saves operating cost.
Increases motor life.
Increase in safety.
APPLICATIONS
Ideal for buildings with a sump storage tank and an overhead tank for water supply.